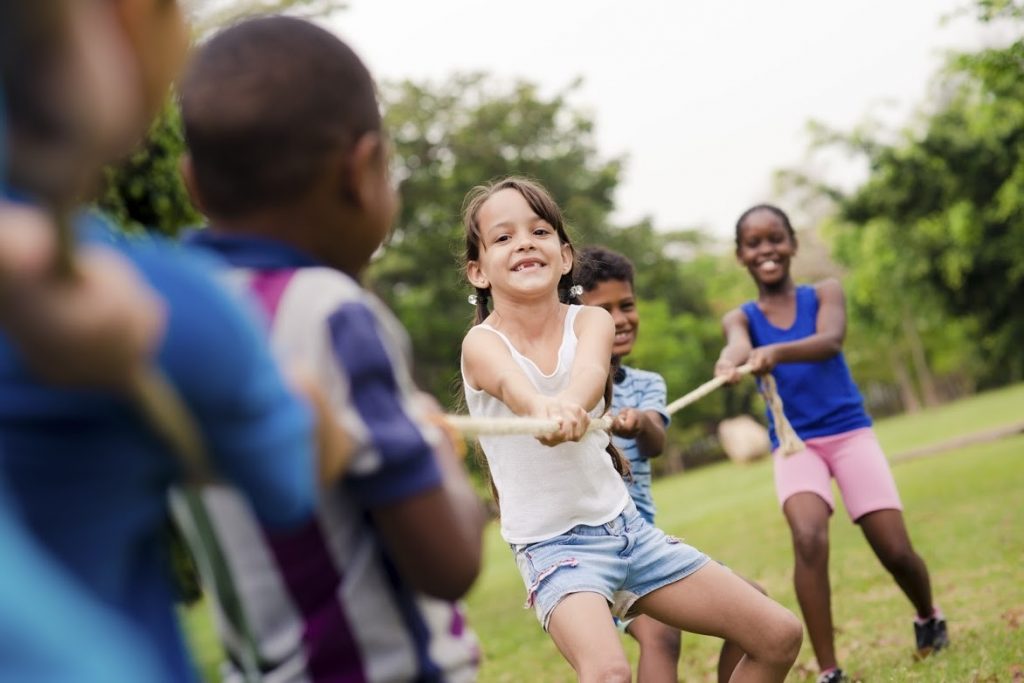 We're all spending more time at home these days due to the COVID-19 pandemic. For many parents, that means kids are spending more time with screens than ever.
But kids ages 6 and older should still be getting an hour of physical activity each day. Not only can this help kids to burn energy; it can also help them establish healthy habits that can reduce their risk of cancer and other diseases later in life.
So, how can you ensure your kids get enough exercise when you're spending so much time at home – and on screens? Is it safe for kids to play sports? Is it safe to go to the playground or park?
Get answers to these questions and help keep your kids active during the coronavirus pandemic with this guidance from Nicole Rosburg, manager of our Child, Adolescent and Young Adult Life Program.
It's OK to break up kids' physical activity
An hour of physical activity a day may seem daunting – especially if you're working from home while trying to entertain your kids or help them with their schoolwork. But kids don't have to get in all the activity at once to reap the benefits. "Break it up into increments," Rosburg says. "That way, kids won't get bored before they've hit their activity goal."
For kids doing virtual school, try scheduling time in their day for exercise. "Just like recess or P.E. at traditional school," Rosburg says.
Even though there are plenty of virtual options for physical activity, Rosburg suggests relying less on screen time to help your kids get exercise.
"Research shows that kids who spend a lot of time on devices have increased irritability and mood issues," Rosburg says. This can also lead to sleep issues, which can lead to further irritability.
If you do choose virtual options to get your kids moving, like yoga videos or interactive movement games, Rosburg recommends choosing options hosted by trusted sources – and watching the videos with your children to make sure they're age-appropriate.
When you can, try to break up screen-time activity with outdoor activity. "Outdoor exercise can be a natural mood booster," Rosburg says.
"The good news is that physical activity doesn't have to be running or something exerting a lot of energy," she adds. The important thing is to get up and get moving.
Get active as a family at home during the COVID-19 pandemic
Having trouble motivating your kids to get active? Rosburg suggests doing something as a family. "Setting aside a dedicated time to take a walk or a bike ride together can be very special for you and your kids," she says.
Low-impact activities like walking or doing chores around the house can be just as beneficial to your child's health. Rosburg also recommends interactive activities like building an obstacle course, hopscotch, jumping rope or playing tag.
"There are plenty of active things you can do around your home," says Rosburg.
If your child has cancer, Rosburg suggests they get as much physical activity as they can handle. "Don't overdo it, but try to do something active each day," she says.
How can kids play sports safely during the COVID-19 pandemic?
If you're looking to get your kids out of the house during the pandemic, sports may be an option. Your child's risk of COVID-19 goes up if they participate in group activities or team sports, but that doesn't mean all sports need to be off-limits. Some activities are lower-risk. "Individual outdoor sports like tennis or golf can be safe options," Rosburg says. Indoor activities tend to be more risky, since social distancing can be challenging.
If individual sports don't interest your child, says Rosburg, "Try to find a team sport, like soccer, where there is the opportunity to be a little more socially distant."
Rosburg also recommends getting to know the coaches, teammates and other parents, so you can be sure they share the same commitment to COVID-19 safety precautions. It's also a good idea to find out in advance which precautions will be in place to keep your kids safe, and to make sure you're comfortable with those. Consider if practices will be inside or outside. Will athletes be wearing masks? What about spectators? How will social distancing be maintained? Rosburg says these are important questions to consider before making a decision for your family.
You'll also want to consider if spectators are allowed, and what COVID-19 safety protocols are in place for those watching the games. Even if the rules aren't clear, you and your family can do your best to wear a mask, practice social distancing and wash your hands frequently.
Is it safe to play at parks and playgrounds during the coronavirus pandemic?
Some playgrounds and parks are now open, but that doesn't mean you should let your guard down.
"I would love to say take your bleach wipes out and wipe everything down before your child touches anything, but that's highly unrealistic," says Rosburg.
Instead, she recommends choosing to visit parks or playgrounds when they're less crowded, practicing social distancing from other families and having your kids do the same, and wearing a mask if it's crowded. You may be able to find information about protocols in place at your local park online, or through signage at the park.
Rosburg also suggests reminding your kids often why it's important to keep their distance from others and to avoid touching their face – and yours. And, if nothing else, says Rosburg. "Make sure you and your kids wash your hands frequently with soap and water, or hand sanitizer if you're out and about."
Read Full Article:  https://www.mdanderson.org/cancerwise/how-to-keep-kids-active-and-safe-during-the-coronavirus-covid-19-pandemic.h00-159385890.html