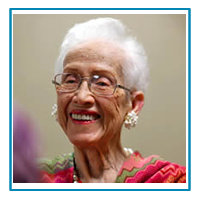 The brilliant mind, kind spirit, and gentle soul of Katherine G. Johnson will continue to inspire future young scientists for generations to come.  Although her scientific acumen allowed her to stand with and among the greatest of mathematicians and physicists, she loved children and enjoyed her visits at Alpha Academy. 
NASA administrator, James Bridenstine stated, she was an American hero, and her pioneering legacy will never be forgotten.  Mrs. Johnson was not only a hero, legend, and mentor to our students and staff, she was our friend and a member of the Alpha Academy Family.
During and beyond her lifetime, Mrs. Johnson received numerous awards and dedications in her honor.  In 2015, Mrs. Johnson received the Presidential Medal of Freedom.  President Barack Obama; in 2016 her life story was featured in the Oscar-nominated movie, Hidden Figures, and most recently, her daughters, Katherine Moore and Joylette Hylick accepted on her behalf, the prestigious Hubbard Award, the National Geographic's highest honor.  She was blessed with longevity (101 years) and she, in turn, graced us with her loving spirit.
Mission:  The Katherine G. Johnson STEM Institute will provide a comprehensive, rigorous, and interactive curriculum that challenges students to maximize their potentials for advanced studies and STEM-related careers.
Katherine G. Johnson STEM Institute
The Katherine G. Johnson S.T.E.M. Institute at Alpha Academy is named after NASA Pioneer Katherine G. Johnson. Mrs. Johnson's impact on American history as well as her love for mathematics and teaching inspired Alpha Academy to choose her as the face of our inspiration.
What is S.T.E.M.?
S.T.E.M. is an acronym referring to the key academic disciplines of science, technology, engineering, and mathematics. Alpha Academy is building students' 21st Century skills by promoting S.T.E.M. based experiences which include robotics, coding, and various national math and science competitions.
Activities
Over the school year in STEM we have offered virtual field trips and exploring STEM careers with 2nd graders. Each month we met via zoom. We had several lessons that included a "Junior Alpha Detectives", a field trip to the wetlands, a closer look at constellations, and explored fossils. These lessons were provided by North Carolina 4-H from various NC locations
Our middle-grade students participated in research with NCSU as we learn more about how the future of educational gaming combines coding principles to science concepts.
Our high school students filled out a STEM Survey. This study analyzes STEM equity in our school to help us understand more about how to help underrepresented groups become more interested and inclined to pursue STEM classes. In turn, promoting STEM classes will ultimately promote more minority groups toward STEM careers.
Parent Volunteers
If you would like to assist with any of the camps, STEM lessons, guest speakers, or donate materials please let Chris Stinson know. You can email him at CStinson[@]alphaacademy.net